The appeal against Sanjiv's conviction will come up in the Gujarat HC on August 20By Nandini Oza August 13, 2019 14:56 IST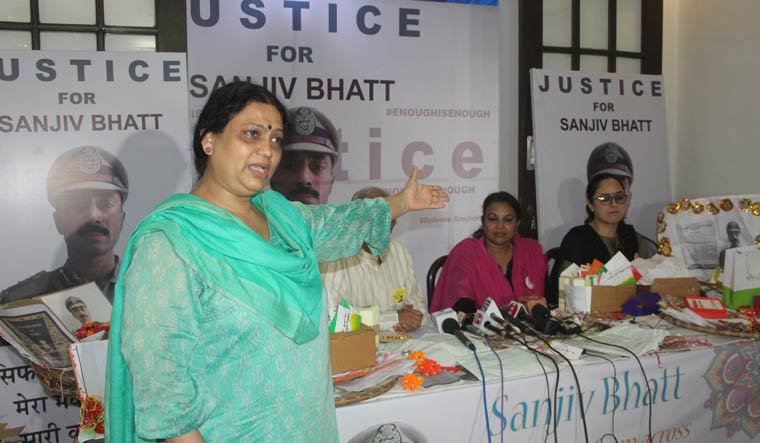 The 'Justice for Sanjiv Bhatt' event to announce the rakhi campaign | Janak Patel
Support has been pouring in for jailed former IPS officer Sanjiv Bhatt. This time, support is in the form of rakhis.
Thanks to a social media campaign launched by Deepika Rajawat, the lawyer who was associated with the Kathua rape and murder case, Sanjiv has received over 30,000 rakhis from across the country.
Over a fortnight ago, Rajawat had started a hashtag, #OneRakhiForSanjivBhatt, and later Sanjiv's family endorsed it.
In June this year, Sanjiv was awarded a life sentence in a custodial death case dating to 1989-1990. Even before he was awarded a life sentence, Sanjiv has been behind bars for 11 months in connection with an old case of 'planting' drugs. Sanjiv, an IPS officer of the Gujarat cadre, was sacked from service in 2015.
On Wednesday, more than 300 women from various walks of life will go to Palanpur to tie rakhis to Sanjiv who is jailed there.
The rakhis for Sanjiv were displayed at the Bhatts' residence on the Drive In Road in Ahmedabad. Apart from Rajawat, Congress leader Hardik Patel, human rights activist Father Cedric Prakash, Patidar leader Gita Patel and activists Dev Desai and Noorjehan Diwan came out in support of Sanjiv.
Sanjiv had taken on the then chief minister of Gujarat, Narendra Modi, at various forums over the 2002 riots and by deposing before a two-member judicial commission. Sanjiv was reportedly close to Modi even till few days before he deposed in front of the commission in 2011. More than 1,200 people—majority of them Muslims—had lost their lives in the post-Godhra riots that broke out in Gujarat in 2002.
Referring to the custodial death case, Rajawat held that Sanjiv was falsely implicated as he had tried to be the voice of the voiceless. Alleging that Sanjiv had not got the fundamental right to live, Rajawat said that there is a strong need to give a message that we are one. Further alleging that things are being manipulated on the basis of money and muscle power, she said that next time it could be anyone else who is targeted.
While appealing that the country should be made "worth living", Rajawat felt that even the judiciary was being manipulated.
She told THE WEEK that she knew how the public response worked in the Kathua case and hence she decided to garner support for Sanjiv by seeking people to send one rakhi each. The Kathua case and Sanjiv's case may be poles apart but the prayer before the judiciary is one for justice, Rajawat remarked.
Sanjiv's family has appealed against his conviction in the Gujarat High Court and the matter is listed for August 20. Rajawat will also appear in the High Court on behalf of Sanjiv.
Father Cedric asked "Even as we are to celebrate independence day, are we really independent?"
Patel, who is facing 42 cases, wondered how those who raise their voice against the BJP get caught in the judicial system. He recalled that in the custodial death case of Swetang Patel during the Patidar agitation in 2015 in Ahmedabad, the High Court did not take action, but in Sanjiv's case, he has been given a life sentence.
Sanjiv's wife, Shweta Bhatt, accused the Prime Minister's Office of taking a direct interest in the case. "Had Sanjiv said before the inquiry commission that he does not remember anything, then there would have been no problem," she remarked.
Shweta held that on the day of the judgment, there were 300 policemen in the court complex. "They were dressed as lawyers and had arms," she alleged, further claiming that a couple of days before the judgment, tailors in Jamnagar were busy stitching white shirts and black trousers.
Patel hoped that they would get permission to tie rakhis to Sanjiv.