Indian forces
used teargas and batons to disperse protesters but there was no disruption in voting, police say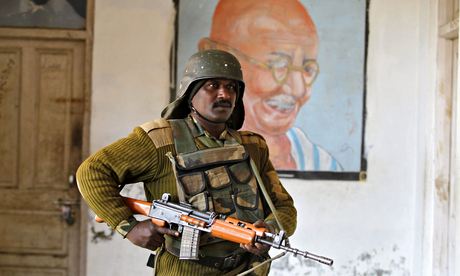 An Indian soldier stands guard at a
polling station
in Merhama, south of Srinagar. Photograph: Danish Ismail/Reuters
Hundreds of Kashmiri protesters hurled rocks at polling stations in the disputed Himalayan territory on Thursday and shouted "Down with India!" on a major day of voting in the country's general election.
Indian forces used teargas and wooden batons to disperse the protesters, but there was no disruption in the voting, a police officer in the area said.
With 814 million eligible voters, India is voting in phases over six weeks, with results expected on 16 May. The protests in Kashmir came as millions of people turned out in 11 states on Thursday for the second biggest day of voting in the election.
Indian Kashmir elects only six members for the 543-member Indian parliament, but voting there will take place over several days due to security concerns.
Rebels and separatist politicians have urged people to boycott the vote to show that they do not recognise India's sovereignty. More than a dozen rebel groups have been fighting for Kashmir's independence from India or merger with Pakistan since 1989.
Thursday's protests spread to nearly two dozen towns and villages in the region.
Aqib Ahmed, a young voter, said he couldn't remain blind to what he said were Indian atrocities against Kashmiris. "So I am not voting," he said.
However, Abdul Ahad, 50, said the people were facing multiple issues in the region. "I am voting in the hope that the issue of development for progress is taken care of," he said.
The main Hindu opposition Bharatiya Janata party went into the election with strong momentum on promises of a surge in economic growth. Early polls suggest there is deep dissatisfaction with the governing Congress party's 10 years in power.
Narendra Modi, the BJP's prime ministerial candidate, filed his nomination papers on Thursday for contesting the parliamentary elections from the northern holy city of Varanasi.
"I am humbled by the love showered by the people of this city on me. I wish to live up to the expectation of the people," said Modi, 63. Supporters rained flowers down on his motorcade as he waved to them and bowed with folded hands.
Read more here — http://www.theguardian.com/world/2014/apr/24/kashmiris-stage-protests-major-day-voting-indian-election
Related posts