End apathy, bring in law against lynchings'
Victims and family members say unless people speak up against violence, things will only worsen
On Sunday, she took centre stage at a conclave to discuss hate-based crime. The woman, now 50, said, "Those accused have not been punished. Poor women are looted and raped. Police do not help us. After so many years, the government has not helped us."
By Express News Service |Mumbai |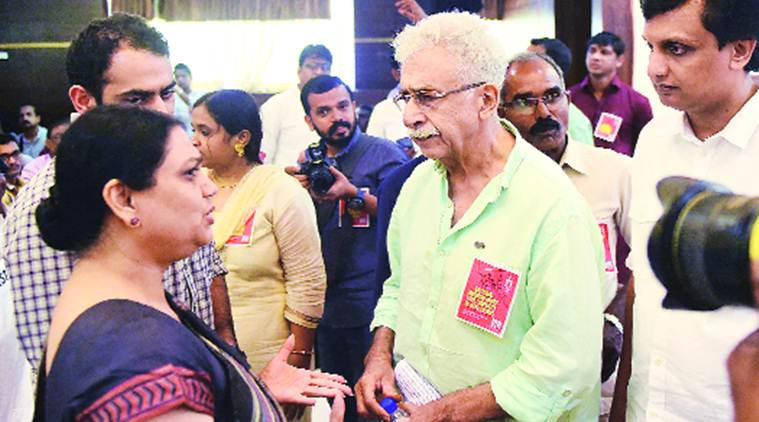 In 2015, she was physically abused, stripped naked and forced to parade in her village in Latur. Men hit her with sticks. Calling it an act of gender violence and caste-based discrimination, the woman, belonging to a Scheduled Caste, said she had been socially boycotted.
On Sunday, she took centre stage at a conclave to discuss hate-based crime. The woman, now 50, said, "Those accused have not been punished. Poor women are looted and raped. Police do not help us. After so many years, the government has not helped us."
The 50-year-old belongs to the Matang community. Like her, the families of eight victims of mob violence and caste discrimination gathered from across India in Dadar to issue a resolution against hate crimes. The resolution, prepared by civil right activists and Democratic Youth Federation of India (DYFI), focuses on the need to have a special law to provide stringent punishment against mob violence and lynching, have mass mobilisation to demand protection of constitutional rights, have equal rights for all castes, and force government to act in such cases.
The accused men from the Maratha and Matang communities tried to forcibly take her land away, the woman said. "When she protested, she was paraded naked. She lodged a police complaint, but nobody has been arrested in the case to date," said Preeti Shekhar, attached with DYFI.
In Ahmednagar, Raju Aage awaits justice for his son Nitin's murder. Nitin, 17, was allegedly killed by men belonging to the Maratha community after he was found talking to a girl from an upper caste in school in Kharda in 2014.
"I don't know if it was love or if he was just talking to a girl. But my son's life was destroyed," said Raju. He said lawyer's fees and the slow-paced police investigation have delayed justice. "What we all need is justice," he said.
Noted actor Naseeruddin Shah, activist and rationalist Dr Ram Puniyani, Retired Supreme Court judge Gopal Gowda, CPI(M) leader Subhashini Ali and activist Teesta Setalvad were among those who spoke on the occasion.
Hate crime victims from different parts of Maharashtra, Haryana, Gujarat and Tamil Nadu narrated their experiences at the five-hour convention that was attended by hundreds of people.
Rajni Singh, wife of UP Police Inspector Subodh Kumar Singh, participated via video conference, calling for speedy justice to victims and a curb on mob justice. Singh was killed in a mob attack when he and his team had gone to a village in Bulandshahr to defuse tension after cow carcasses were found in a forest
Mohammad Nafis and Mohammad Kasam, brothers of teenager Junaid Khan, were present too. Junaid was stabbed to death while his brothers, Hashim and Sakir, were injured on board a Mathura-bound train when they were returning to their home inBallabhgarh in Faridabad after Eid shopping in Delhi. The incident happened in 2017. Kasam in his emotional speech said, "For 30 years, my father worked for non-Muslim employers. We never even felt that we belong to a different religion. But my brother was stabbed with knives just because of his religious identity. This environment is unsafe, and we all need to change it. Unless we speak up it is going to become worse."
Shahanawaz Shaikh, uncle of IT engineer Mohsin Shaikh from Pune, the first victim of lynching after the NDA government assumed power at the Centre in 2014, made almost everyone on the stage emotional. "Mohsin's murder has shattered our family. After the death of Mohsin's father six months ago, there is nobody to take care of the family's financial needs," he said.
Shahnawaz also said that they do not have a public prosecutor to represent their case. He said, "Advocate Ujjwal Nikam was representing our case but after he quit, we have not been given a lawyer by the government. The promise to fast-track the case was an eyewash. All the 18 accused are currently out on bail, including Hindu Rashtra Sena chief Dhananjay Desai. Where is justice?"
Sathyabhama, victim of gender and caste atrocity from Latur, shared her case. "I was paraded naked in the village because I belong to a lower caste. Money and power give kick to these people to commit such crimes against us. But we should not fear to them and speak up," she said.
Shweta Bhatt, wife of former IPS officer Sanjiv Bhatt, participated in one of the two sessions. "I am relentlessly travelling across country to speak against the misuse of the power by the establishment. Sanjiv spoke out on issues we are raising today. We as a society have become more tolerant towards such acts by the government. Unless, we speak up we all are going to suffer," she said.
Naseeruddin Shah personally greeted all the victims and family members attending the convention. "Recently I was criticised for my opinions but what you all have gone through is far bigger than that. Salam with respect. I am with you."
The resolution mentions that "Hate crimes of unspeakable brutality against innocent persons belonging to religious minorities, Dalits, tribals and migrants are becoming terrifyingly frequent. The national media reports few sensational instances of hate crimes but presents them as work of so-called fringe elements. What is unfolding, however, is not digressions of some fringe elements but the longterm agenda of converting our country into a Hindu Rashtra."
India express