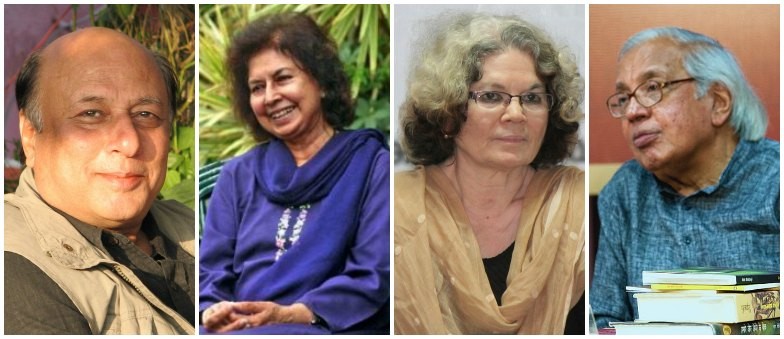 Over the past one week, disgruntled writers and poets across the country have returned the prestigious Sahitya Akademi Award to protest the increasing incidents of communal violence in India.
Several elite writers and poets have also resigned their posts in the 20-member General Council of the country's top literary body, saying that they were shocked at the level of intolerance on freedom of speech and expression.
Hindi writer Uday Prakash was the first to return the prestigious award. Writer Nayantara Sahgal and poet Ashok Vajpeyi followed Prakash in protesting the murders of rationalists like MM Kalburgi, Govind Pansare and Narendra Dabholkar. They also came out against the shocking Dadri incident, in which a mob lynched a Muslim man in Greater Noida over rumours of eating and storing beef.
At least 17 authors  have returned the prestigious Akademi award, while four have resigned elite posts of the organisation.
Here is the list of litterateurs who returned their Sahitya Akademi Awards*
No
Litterateur
Language
1
Uday Prakash
Hindi writer
2
Nayantara Sahgal
Indian English writer
3
Ashok Vajpeyi
Hindi poet
4
Sarah Joseph
Malayalam novelist
5
Ghulam Nabi Khayal
Kashmiri writer
6
Rahman Abbas
Urdu novelist
7
Waryam Sandhu
Punjabi writer
8
Gurbachan Singh Bhullar
Punjabi writer
9
Ajmer Singh Aulakh
Punjabi writer
10
Atamjit Singh
Punjabi writer
11
GN Ranganatha Rao
Kannada translator
12
Mangalesh Dabral
Hindi writer
13
Rajesh Joshi
Hindi writer
14
Ganesh Devy
Gujarati writer
15
Srinath DN
Kannada translator
16

17

Kumbar Veerabhadrappa

Aman Sethi

Kannada novelist

Mumbai Author
| | | |
| --- | --- | --- |
| 18 | Rahmat Tarikere | Kannada writer |
| 19 | Baldev Singh Sadaknama | Punjabi novelist |
| 2 | Jaswinder | Punjabi poet |
| 21 | Darshan Battar | Punjabi poet |
| 22 | Surjit Patar | Punjabi poet |
| 23 | Chaman Lal | Punjabi translator |
| 24 | Homen Borgohain | Assamese journalist |
| 25 | Mandakranta Sen | Bengali poet |
| 26 | Keki N Daruwalla | Indian English poet |
After Punjab 18 Maharastra intelligesia joins the akademi  prote
By Alka Dhupkar
Journalist and writer Ibrahim Afghan to return his Sahitya Akademi award, along with seven others, in protest of climate of intolerance.
The list does not include six Kannada writers who returned the State literary award on 3 October.
List of litterateurs who resigned from Sahitya Akademi posts
| | | |
| --- | --- | --- |
| No | Litterateur | Language |
| 1 | Shashi Deshpande | Kannada author |
| 2 | K Satchidanandan | Malayalam poet |
| 3 | PK Parakkadvu | Malayalam writer |
| 4 | Aravind Malagatti | Kannada poet |
Theatre artist Maya Krishna  Rao  returned the Sangeeta Natak Academi award
Related posts