At Alibag in Raigad district, where about 1,000 tribals and others representing the Shoshit Jan Aandolan gathered, including a very large number of women.
By Express News Service |Mumbai | Published: July 23, 2019 2:55:38 am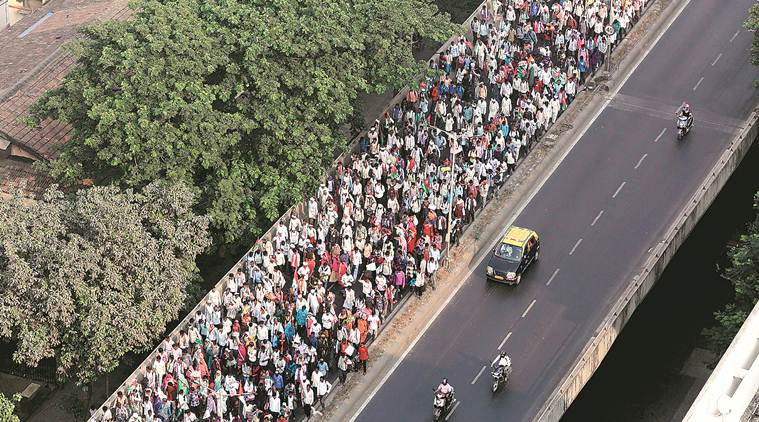 Tribals and other forest-dwelling communities on Monday held demonstrations at multiple locations across Maharashtra against a February 13 order of the Supreme Court that would dispossess lakhs of people dependent on the forest for their livelihood from forest resources. While the order was temporarily stayed on February 28, the case comes up for hearing in the apex court on Wednesday. In addition, protesters also demanded that the proposed amendments to the Indian Forest Act (IFA), 1927, be rolled back.
At Alibag in Raigad district, where about 1,000 tribals and others representing the Shoshit Jan Aandolan gathered, including a very large number of women. A delegation led by activists Ulka Mahajan, Surekha Dalvi and Mukta Srivastava met taluka-level officials and handed over a letter listing their demands. In Karjat, also in Raigad district, a protest was conducted by the Shoshit Jan Aandolan and the Jagrut Kashtkar Sanghatana.
At Dahanu in Palghar district, the Kashtakari Sanghatana and the Shetmajoor Shetkari Panchayat agitated outside the Palghar collector's office in Dahanu. The All India Kisan Sabha organised a separate protest in Dahanu along with Centre of Indian Trade Unions (CITU) and the Democratic Youth Federation of India (DYFI).
Asking for the state government to defend the Forest Rights Act (FRA) while also condemning the proposed amendments to the IFA, the note to the Raigad Collector said several claims for rights under the FRA remain pending in the district, including at the Gram Panchayat level, while a large number of accepted claims have not been officially certified. Non-tribal forest dwellers' claims have not been accepted at all, it said, while those whose claims are accepted are not heard afresh later even if they were granted rights over less land than due to them as per law. "The long-neglected justice for tribals and other traditional forest dwellers remains elusive," the letter said, listing among its demands a complete rollback of proposed amendments to the IFA and a review of all rejected claims under the FRA.
The IFA amendments proposed by the Centre give greater policing powers to the forest department, including through the use of firearms and a veto power to the forest department to override the FRA, which includes applying 'village forests' to manage forest resources instead of the gram sabhas as envisioned by the FRA. Also, forest land may be opened for commercial exploitation wherever governments think fit.
In Dahanu, protesters submitted to officials a list of demands addressed to Chief Minister Devendra Fadnavis. It said that under the FRA, rejected claims do not entail evictions and that the law merely certifies an existing right to land and resources that a community has been exercising. "The SC's order on July 24 will directly impact over 3 lakh adivasis and forest dwellers," the letter said. It also said the IFA amendments proposed in March this year will open up forest land for privatisation through its proposal to allow state governments to open patches of forest land for commercial exploitation.
On Tuesday, the CPI (M) and the All India Kisan Sabha will hold a rally at Kalwan in Nashik district, from where the historic long march of tribals had begun in 2017, to be addressed by CPI (M) politburo member Brinda Karat, AIKS national president Dr Ashok Dhawale and the CPI (M)'s seven-term sitting MLA of Kalwan, J P Gavit.
Protest Mount on Unfair Evictions of Adivasis & Forest Dwellers
Hundreds of members of the All India Union of Forest Working People (AIUFWP) and forest dwellers of Tongia forest village organised a peaceful assembly two days earlier, on July 19, in VikasBhavan, Hardiwar District Headquarters.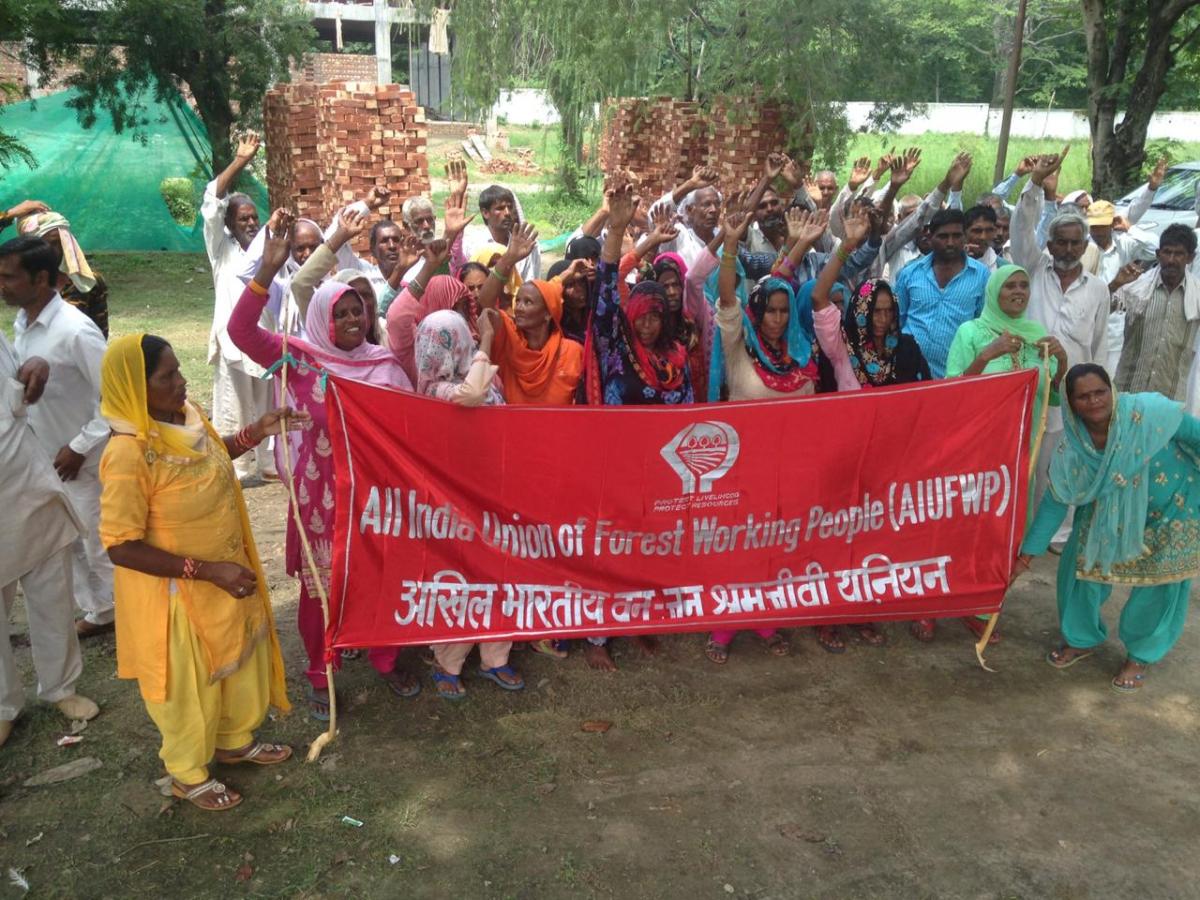 Several men and women from Haripur Tongia, Hazaara Tongia, TeeraTongia, Kamala Nagar Tongia, Purushotham Nagar Tongia, Bhatia Nagar Tongia and many others attended the rally. They gathered at 1 p.m. and discussed the Feb 13, 2019 order of Supreme Court on "eviction" of Adivasis and other traditional forest dwellers whose claims have been rejected under Forest Rights Act, 2006. They also stressed on an important issue raised by Supreme Court in the order regarding the role of State Government in implementation of Forest Rights Act, 2006. With women leading the rally, they shouted slogans and walked in silent protest to the office of The District Magistrate.
The District Magistrate of Hardiwar had agreed to meet them at 2 p.m. However, due to his absence, Additional District Magistrate of Haridwar received the memorandum presented by them.
It had the following four demands,
1. Forest Rights Act, 2006 is a crucial law. It is the constitutional duty of the Central and State Government to implement this Act.
2. On 24th July, the State Government should be legally represented in the Supreme Court, as per Supreme Court's order on 13th Feb,2019.
3. State Government should inform the ZillaParishad to not issue an order or notice of eviction of Forest Dwellers until the matter is resolved in the Supreme Court.
4. In the year 2009 and 2010, forest dwellers of Tongia Forest Village, Uttarakhand had submitted their claims following due process mentioned in the Forest Rights Act, 2006. These claims should be approved and their respective titles should be given to them.
5. Revenue status should be given to all tongiaforest villages.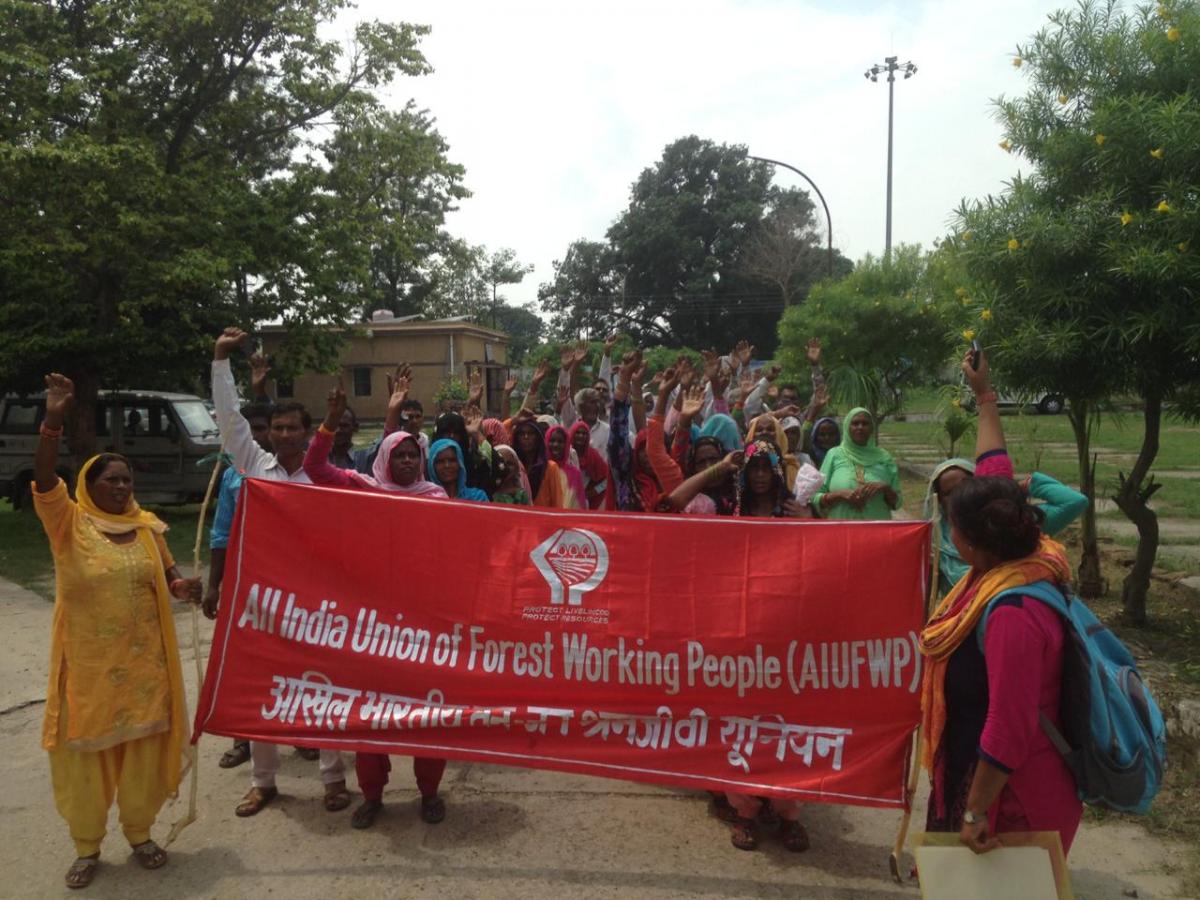 The Additional District Magistrate received this and gave them a receipt of the same.
Post this, they gathered outside the office and made a unilateral decision to participate in the rally in the State Capital of Uttarakhand on 22nd July.
In a National Consultation meeting on Land and Forest Rights, conducted on 1st and 2nd of July, in New Delhi, it was agreed upon by the participants to demonstrate peaceful rallies across India on 22nd July, in their respective regions, at Block level, Taluk level, District level and State level, two days before the Supreme Court's hearing on eviction of Adivasis and other traditional forest dwellers whose claims have been rejected under the Forest Rights Act, 2006.
The Bhumi Adhikar Andolan has called for a nation wide protest to Resist the Evictions, Join Nation-wide Protest today Monday July 22 to "Implement Forest Rights Act Now" at Jantar Mantar from 11.30 a.monwards.
Here is the appeal for calling the protest: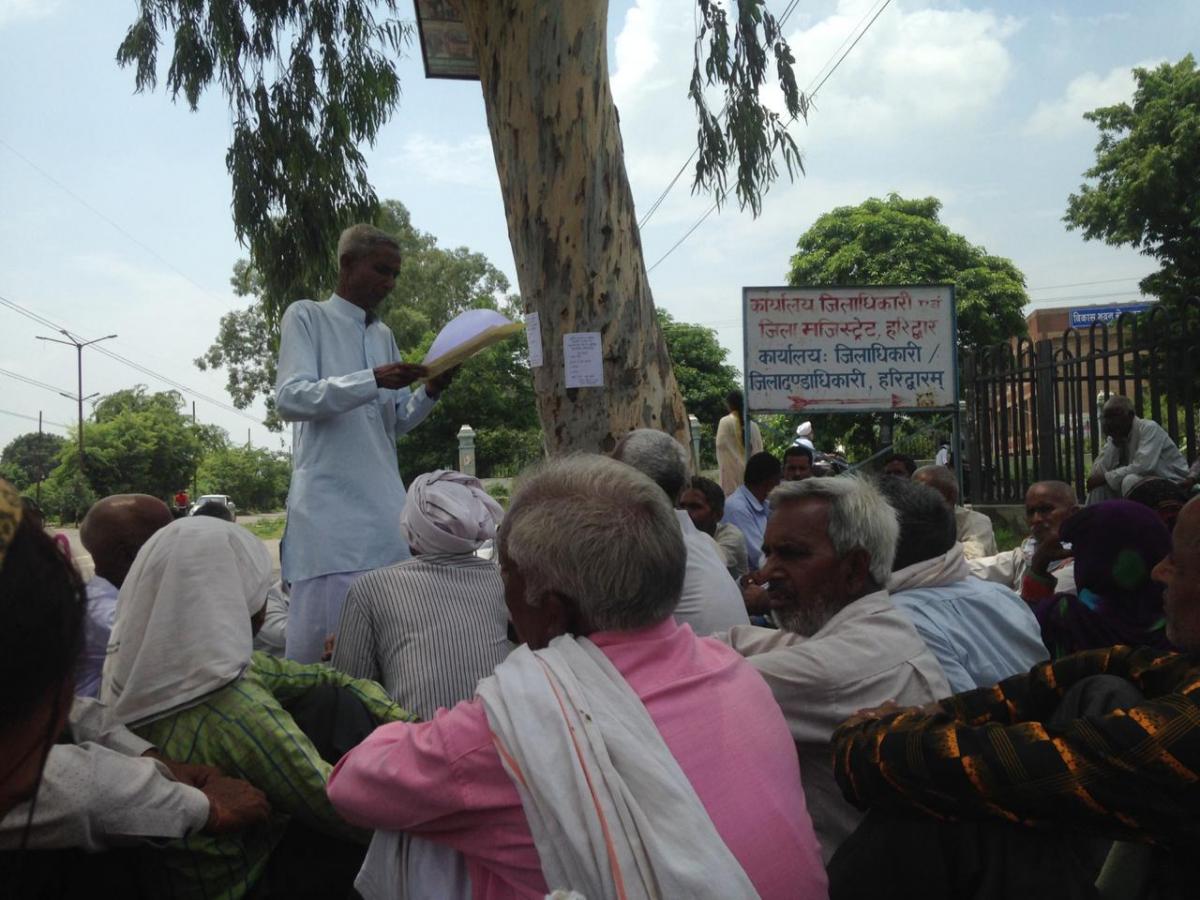 "Millions of Adivasis and other traditional forest dwelling communities are facing the danger of eviction due to the Supreme Court ruling on 13th February, 2019. If the claims under the FRA are rejected, then the States have been directed to evict Adivasis and traditional forest dwellers from the forests. After countrywide protests the Supreme Court amended its ruling and stayed it till 10th July, 2019. While on the 28th February 2019 the Supreme Court stayed its earlier order putting orders for eviction on hold, the forest department is yet pushing people out of their lands destroying their farm fields. Several such instances have been reported in many states since 13th February 2019. The Supreme Court is due to hear the different petitions on 24th July, 2019. The BJP Government is also proposing draconian amendments to the Indian Forest Act, 1927 to facilitate corporate loot and exploitation of the tribal people. The two-Day National Consultation of Land and Forest Rights Movements held in Delhi on 1st and 2nd July, 2019 decided to hold programmes and protest actions condemning the government actions, amendments to Forest Act on 22nd July at the village, block, district and state level. Chief Ministers of different States of the country have been written to seeking their intervention in favour of the Forest Rights Act and the Adivasis in the Supreme Court.
In Solidarity,
HannanMollah, MedhaPatkar, JitendraChaudhary, Roma, Ashok Choudhary, UlkaMahajan, AtulAnajan, PrafullaSamantara, Brian Lobo, Dr.Sunilam, Sanjay Basu Malik, GautamBandopadhyay, Adv. AradhnaBhargava, DayamaniBarla, TeestaSetalvad, VirendraVidrohi, Suneet Chopra, Raghvendra, Vijoo Krishnan, Prem Singh, Satyavan, Anil Choudhary, Bhupinder Singh Rawat, Madhuresh Kumar, Ashok Shrimali, Krishna Prasad, VirendraVidrohi, Deep Singh Shekhawat, Sanjeev Kumar, Anil Varghese and other representatives
Organisations:
(Bhumi Adhikar Andolan, Adivasi Adhikar Manch, Adivasi Aikya Vedike, Adivasi Ekta Parishad, Adivasi Mukti Sangathan, All India KisanSabha (Canning Lane), All India KisanSabha (Ajay Bhavan), Akhil Bhartiya Krishak Khet Mazdoor Sangathan, All India Kisan Mahasabha, All India Agriculture Workers Union, All India Union of Forest Working People, Baiga Tribal Development, Bargi Baandh Visthapit Evam Prabhit Sangh, Bharat Jan Andolan, Bhartiya Kisan Union Arajnitik Asli, Bundelkhand Mazdoor Kisan Shakti Sangathan, Citizens for Justice and Peace, Chhattisgarh Bachao Andolan, Dalit Adivasi Shakti Adhikar Manch, Delhi Solidarity Group, Gond Mahasabha, Gujarat Khedut Samaj, Himdhara Collective, Intercultural Resources, Jan Ekta Jan AdhikarAndolan, Jan Sangharsh Samanyvay Samiti, Janmukti Vahini, Jindabad Sangathan, Kashtakari Sangathan, Kisan Manch, Kisan Sangharsh Samiti, Lok Mukti Sangathan, Lok Sangharsh Morcha, Lok Shakti Abhiyan, Maharashtra Rajya Kisan Sabha, Mines Minerals and People, Narmada BachaoAndolan, National Alliance of People's Movements (NAPM), Paryavaran Suraksha Samiti, Patha Dalit Adhikar Manch, Sahariya Jan Adhikar Manch, Sanyukt Kisan Sangharsh Samiti, Sarv Adivasi Sangathan, Sarvahara Jan Andolan, Shoshit Jan Andolan, Tribal Foundation of Chhattisgarh, PRC, AdhikarManch, NBJBA, YuvaSwabhiman, Kaimoor Mukti Morcha, BJSA, SRUTI, ICR, Tribal Foundation, Dilli Fouram, Vikallp, Nadi Ghati Morcha, Center for Pastoralisam, Saheli, Janmatu Sangthan, Prithvi Trust, JindgiBachao, Citizens for justice and peac (CJP), Jharkhand BachaoAndolan, Sabrang, and others….
Contact for more information: bhumiadhikarandolan@yahoo.com